The other day, we had a comment on this post from Amy wanting to know about the advisability of a warm color scheme. Here's what she said:
I was reading your "10 common Interior design mistakes" and saw the picture with the dated furniture and toothpaste walls and I had some questions. Obviously the toothpaste wall color and brown furniture are a weird combo, but if you liked more rusty colors are you necessary dated? It seems like the trend is more towards blues, grays and whites but what if you like more rusty fall colors, is your taste dated or are you staying true to yourself? I was wondering what your take was on interiors using beige and rusty reds. Thanks ~ Amy
The second I read this comment, I knew that we had the makings of a relevant blog post.
After-all, for most of us, isn't that one of our biggest decorating fears?
I'm going to spend thousands of dollars for something I think is pretty terrific now. But in ten years when we go to sell the house and every realtor we speak to cringes, I am going to kick myself for thinking it was a good idea to do a warm color scheme when EVERYONE else is doing gray and blue.
That's a valid fear, but the basis is on a narrow perception of what is:
classic
timeless
and what is traditional
When someone mentions a warm color scheme in decorating with beige and rust, the first thing that I think of is that horrid so-called "Tuscan" Style so prevalent in the 90s.
Believe me folks. It is not in any way "Tuscan."
Raise your hands. How many of you did a whole number, including the curly-cue wrought iron light fixtures and tumbled marble? You can see a couple of kitchens here to see some of what I'm talking about.
And along with that, gobs and gobs of richly saturated cherry wood, heavy chenille upholstery and heavy velvet drapes with sheers.
Okay, I'm putting my head on the chopping block, but it's because I feel that strongly about this one.
I'm really not into this look. (understatement) However, you might be and the reason I say that is they still make this stuff and somebody's buying it. And that is fine if you well and truly like it.
But for the rest of us, I need to discuss the problem with this furniture.
First of all, please know that the first images that I'm going to share are not from anyone's home.
Nosireee… I learned a painful lesson one day nearly two years ago when I posted a pic belonging to a colleague. ugh. Yeah I was mortified, to say the least, when I found out and took the image down immediately.
These first few images are from furniture companies.
No names, except for the first one, because the image is watermarked on it.
Like anyone else would try to take credit for it? :/
Yes, I know. Very nasty. But I feel visually assaulted when I see this stuff.
True. I don't have to look at it. But if we don't face the beast, then how are we to learn?
And please do not pin any of the first images, unless it's a secret board. Thank you. Everything else is fine to pin.
Sorry Mr. Amini. I know that you must be very proud of your work as you should be if you plaster your name all over your images. And I don't know any way to say this that doesn't sound mean. But when I look at this, I am wondering if we were both propagated on the same planet?
This furniture is found under the classification of "traditional."
It is NOT traditional. It is NOT contemporary.
But here we do have a warm color scheme.
And dated is not the word I would use.
The word I would use is wrong.
EVERYTHING is wrong!
And what kills me is that these vignettes seem to follow a formula.
The area rug is always the size of a postage stamp; waaaaay too small.
And then there's the eccentricity of only one table lamp. There is always only one lamp.
But ya know… That isn't so bad, because the darker these rooms are, the better.
Want to see more? It warmed up to 50 degrees today and I'm feeling a little frisky!
Apparently, there's a performance of the ballet coming. haha! And geeezzz, even in a straight on shot. There's only ONE lamp.
Clever. At least they gave these monstrosities some feet for a quick get-a-way.
Very funny Laurel. But don't you have something more contemporary with a warm color scheme?
Sure I do.

Happy now?

Really bad. All matched and the color of… But there ARE two lamps. I will give back one point for that. :]

Now, this one is the one that was commonly done about 20 or so years ago that folks now refer to as "dated."
It was dated the day it came out because it is also just plain wrong. And we're back to one lamp.
It is also not traditional.
Calling this room traditional is like saying that Cool Whip is whipped cream. Cool Whip is aerated plastic with some high fructose corn syrup thrown in. And that is how I feel about this room, as well.
Okay, Laurel. Thanks. You convinced us… No warm color schemes ever again!
Good night.
NO WAIT!!!!!!!!!
come back!!!
Please. My point is what to avoid:
big puffy bloated furniture
furniture with weird shapes and curlie cues
matched sets
too much wood
one-note color schemes
horrendous proportions/scale
fake, phony, ersatz
And dear Amy, please stop listening to the garbage on TV and listen instead to your heart.
Because there is nothing in any way wrong with a warm color scheme. As a matter of fact, many of our top interior designers and architects, embrace with great passion warm shades of cream, rust, gold, beige terracotta and orange.
And… it's beyond fabulous.
In fact, remember when we talked about THE most classic color?

Yeah— orange. Here are 20 wonderful shades of orange from super pale to a deep rust
In fact, one of my favorite architects, Gil Schafer who frequently collabs with the wonderful Miles Redd embraces these wonderful warm tones and his rooms are perfection.
Let's take a look-see.
Incredibly wonderful Federal Brownstone in Greenwich Village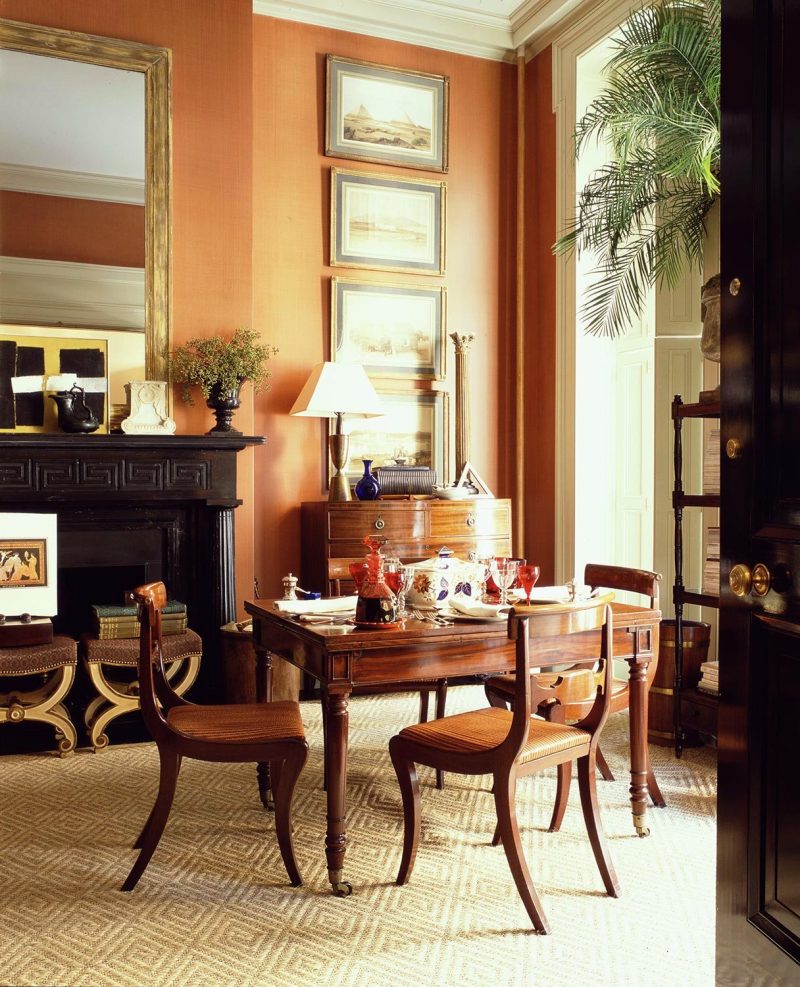 Another view of the same room.
I'll forgive the sisal. Please click the link to find out what that's all about.
Oh, that mantel!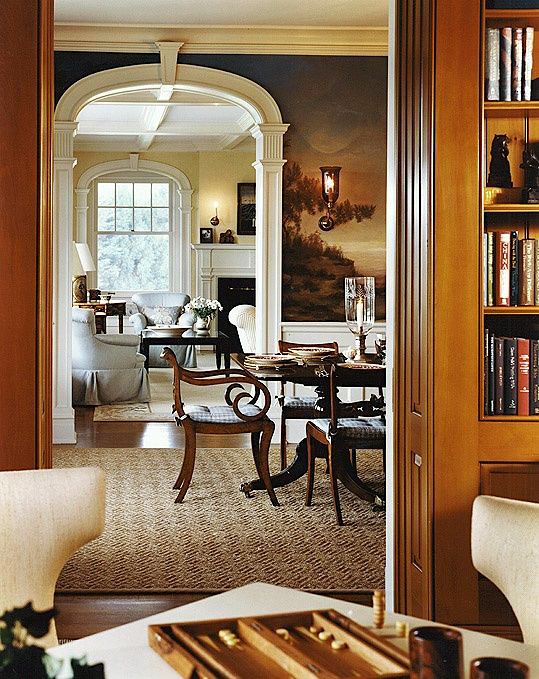 It is difficult to find proper credits sometimes. I think that this is also Gil's architectural work, but the interior design is usually credited to Horton Design Services. I could not find a website for them.
But isn't this spectacular? Oh! And do I spy an enfilade? (yes, I do!)
The wallpaper I believe is from De Gournay.
Above and below, to shots from a fabulous home which is another collab between Gil and Miles. The color on the wall is an archived color from Farrow and Ball – Orangerie. You can find the Benjamin Moore equivalent here.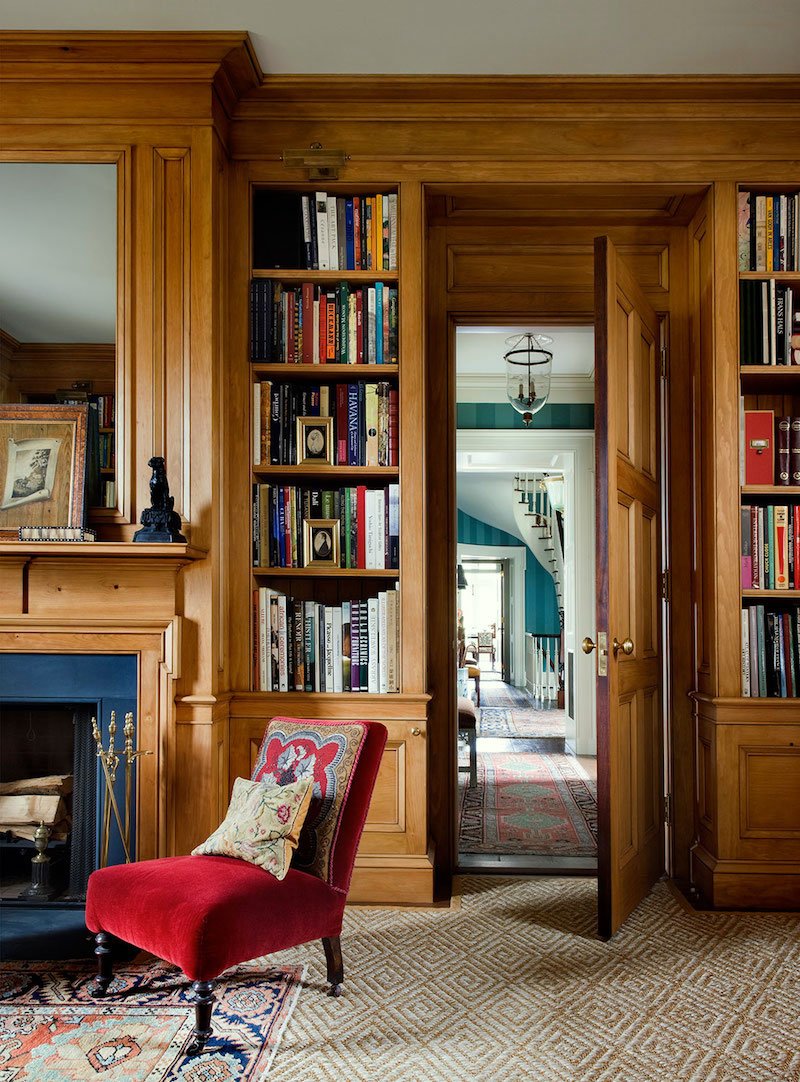 This is from a few years ago and I didn't realize it until today, was a new house! Miles did the decorating again. Glorious! There are more pics of this amazing place here.
Here, the wall color is lightened to a soft marigold. Another good point is that like blue and white crave warmth, warm color schemes crave cool.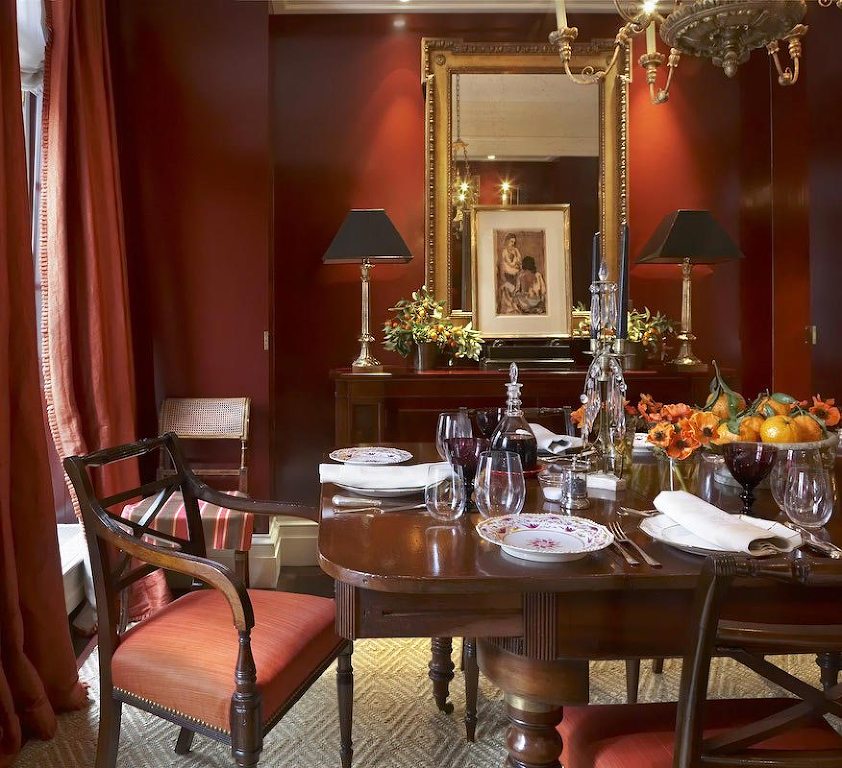 A fabulous cinnabar red on red dining room. He must've gotten a special on that sisal carpet. ;]
After Jim left a great comment these colors and my comment, I decided to put this photo in about 12 hours after publishing. What is the beautiful shade of white? Well, if Benjamin Moore, it could be White Dove, Ivory White or even Linen White.
like a warm hug. And OH, that floor!!!
Too pretty for words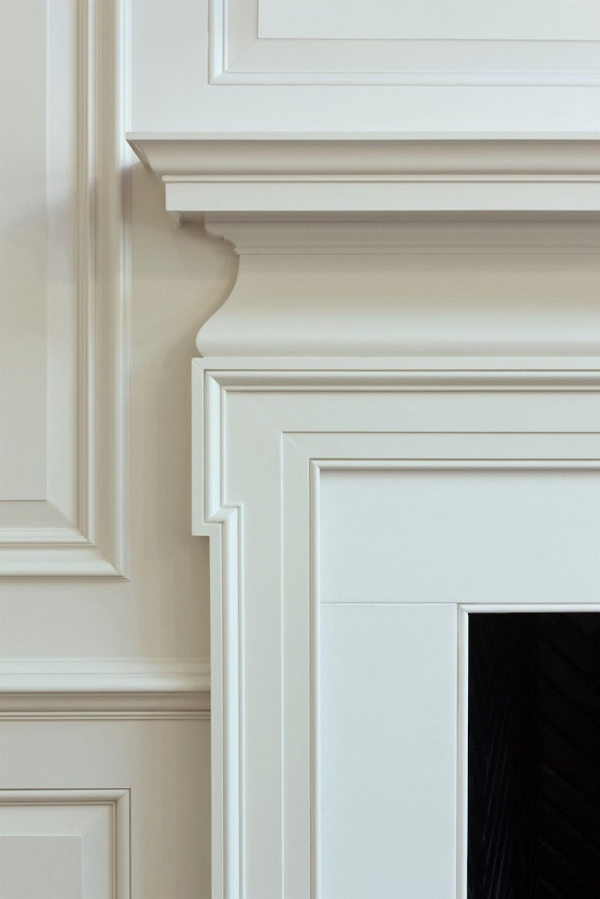 Oh, while I was combing through every image in Gil Shafer's portfolio, I came across this image which I've had on here before but never knew its origin. Well, now I do!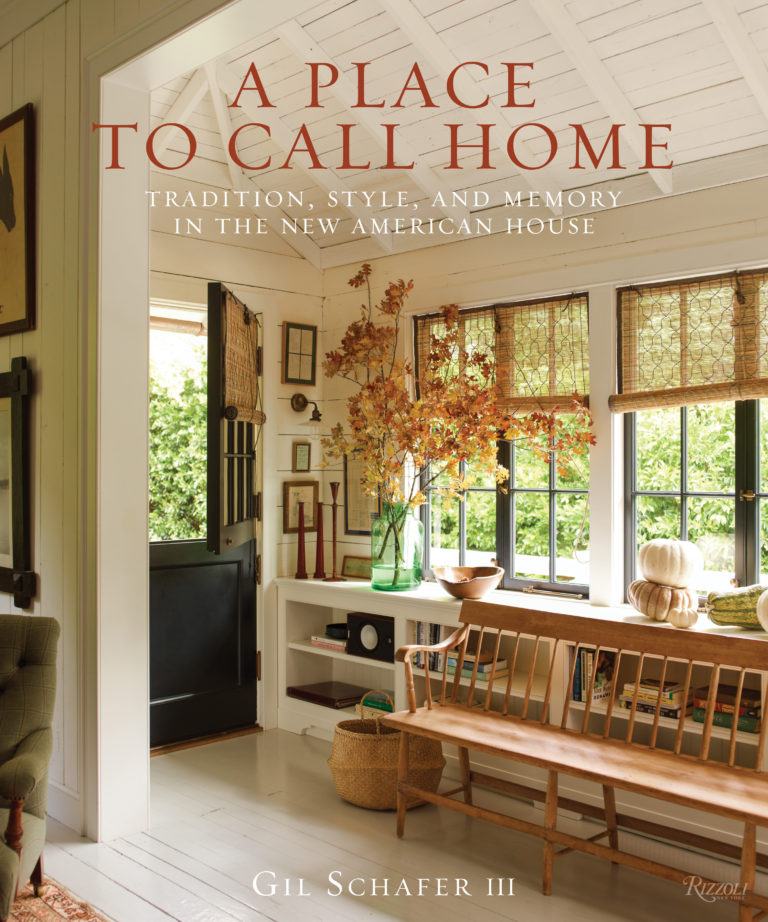 Gil wrote this book published last September if interested. Photos are by Eric Piasecki
I have a few more images from other designers who've used warm color schemes beautifully
Via Southern Living – photo Laurey Glenn
Fabulous country kitchen by Suzanne Kasler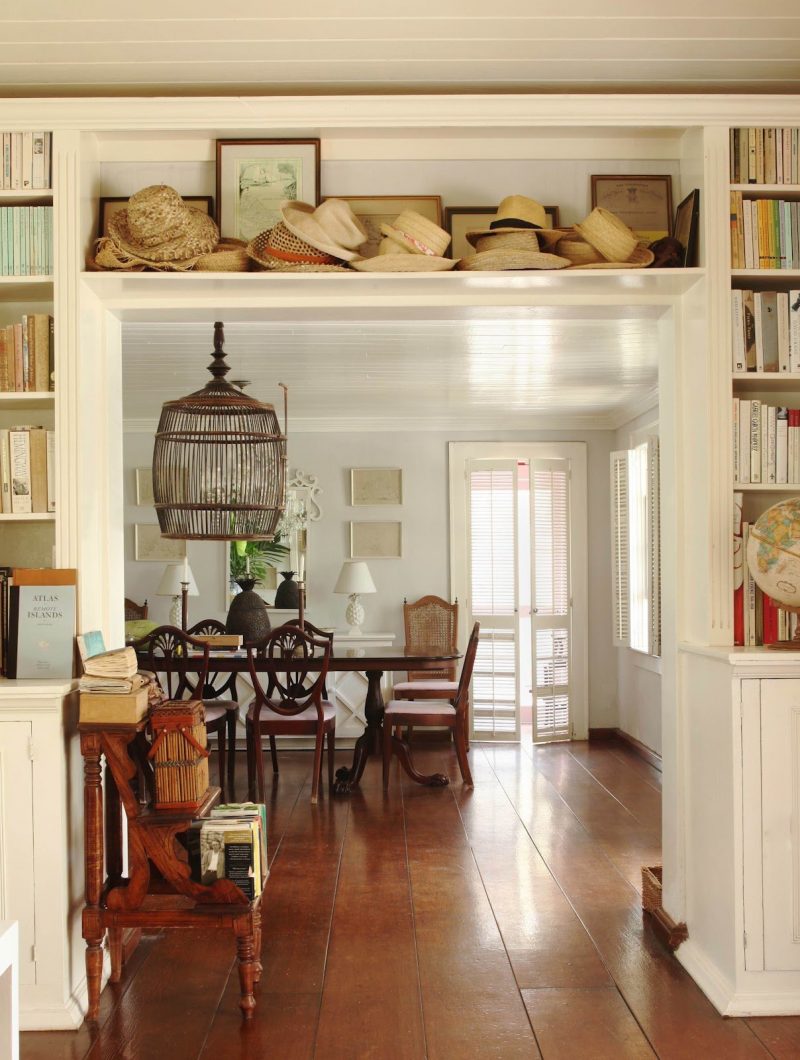 From the book Rooms To Inspire By the Sea by Annie Kelly – photo: Tim Street-Porter
I came across this image and it took me a while to find its source. I think that it's quite handsome and what makes it, is the mirror. That difference in style is what makes for an interesting composition. Plus this vignette is beautifully layered. The flowers in the fuchsia also give an interesting note.
But this sectional is from a line designed by Ken Fulk for Pottery Barn! And then I went over to PB and guess what? They don't have this in their line any longer.
However, PB has some other handsome leather pieces in they just happen to be in warm color schemes, so let's take a look at a couple for some ideas.
Turner Roll Arm leather sofa.
There's also a track arm version. Oh, and it's on sale right now!
This is quite a long sofa but it comes in three sizes and there are numerous choices for the leather. It would be fabulous in a large great room. But see how it's softened with the light pillows and throws?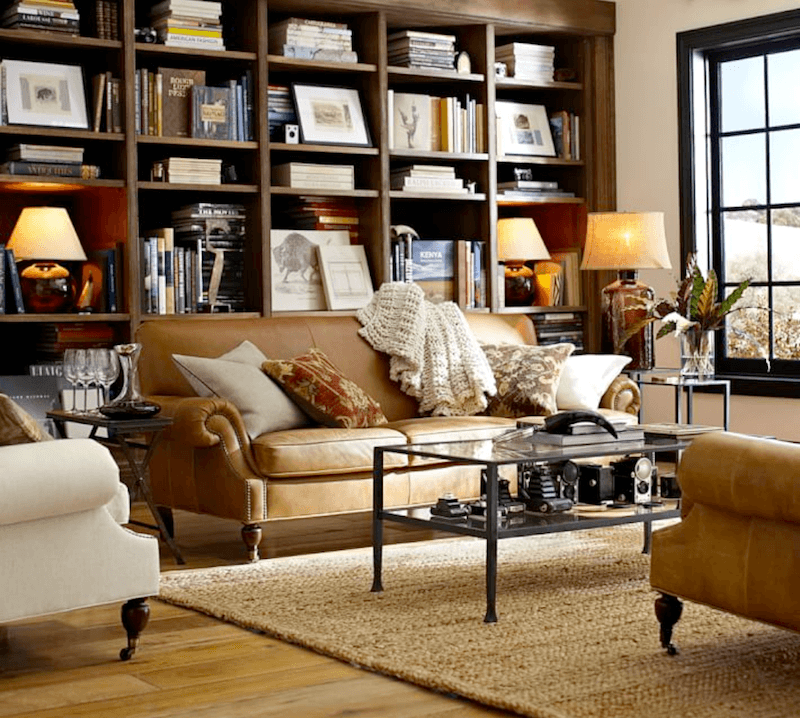 Brooklyn leather sofa
This is another handsome vignette. Love the bookshelves. Actually, I like most of the leather pieces at Pottery Barn. Their upholstery has improved a lot in recent years and it's most likely because it's made in the USA now.
Another way to use a warm color palette is primarily with whites and creams and then the warm terracotta accents and some blue and green. This one from Williams-Sonoma Home looks perfect for home in the south or a vacation home, perhaps.
For more images of warm colors, please check out these posts
The Death Of the Boring Beige Living Room
How To Get The Mark D Sikes Look On A Budget
Interior Design Lessons We Can Learn From The Masters
Of course, there's more than that.
And I made a widget for you of furnishings that I might use in a room with a warm color scheme.
And please don't forget to check out this week's hot sales! Everything is up-to-date.
xo,