Hi Everyone,
Before we get into the elegant hide the TV solutions, many of you know, but many of you don't know.
My sweet mama passed away peacefully and gently on Thursday evening at just after 10:00 PM central time.
I sent the word out in Friday night's Hot Sales, but not everyone reads that. But, since then, have been flooded with hundreds of messages in my email and on facebook. Your notes are all incredbily beautiful and heartfelt.
And, while I haven't been able to respond, I am overwhelmed with gratitude. It has given me so much comfort, I just can't say. I know that so many of us have, are currently, or will soon be going through a similar thing.
This isn't going to be a true memorial, but I just have to post a couple pics I put on my personal facebook page and say a few words. Probably a few hundred. haha.
(Note: I don't link to FB, but if you want to stalk me, over there, just google my name and facebook and it should pop up for you. Everything is completely open. Being a blogger means saying ba bye to privacy.)
This is my mommy, Lee Raffel born October 20, 1922 when she was about 17. Yes, I know… She was too adorbs for words. By the way, she wasn't Lee Raffel back then. She was Blossom Lewis. That's another story.
As, she graduated high school a year early, it would've been 1939. And, I bet that my grandmother, Hannah, made that dress. I never met her because my Mommy's Mommy died in the summer of 1943 when my mom was not yet 21. Grandma Hannah had an inoperable brain tumor and a year before she died, Mom dropped out of Washington, University to care for her.
Mom married my father three days before her 21st birthday.
Yes, it was during WWII and they didn't have time for anything big. She never got to have "the dress." But, she sure made sure that I had one when I got married! We went traipsing down to Kleinfeld's in Brooklyn. You New Yorker's know the place.
Fast forward. My folks had two children in the 1940s. The early baby boomers. However, Mom REALLY wanted a third child. For years, she would discuss it with my dad and he always said, "no, Blossom, two is enough." But, she didn't give up. And believe me, she told me this dozens of times throughout my life.
Finally, my dad said, okay, as long as she earned the money to pay for the baby.
So, my mom did just that. She gave ballroom dancing lessons to the neighborhood teen-agers in our south-side of Chicago neighborhood. She LOVED to dance and did, every week, until she fell and broke her hip nearly five years ago.
In fact, on her last day of being conscious (August 23rd), the nurses brought in some music from the 40s and Mom did a little bed dance with her hands.
Lee continued to teach ballroom dancing throughout most of her pregnancy.
So, it just stands to reason, that she would give birth to a dancer. Right?
One day, nearly three weeks before her due date which wasn't until the end of February 1956,  she decided she couldn't bear being pregnant one day longer. And, so like the dutiful child I was, I slid on down the one-way shoot on February 7, 1956 at about 1:30 PM.
I tried Mom's "I can't bear being pregnant one day longer" 34 and 39 years later with my own children. It's time to come out!
Well, both of them firmly ignored me and were each born two weeks AFTER their due date, but only because the doctor used a giant crochet hook to let out the water in their warm bath. Otherwise, I'm sure they'd still be there. :/
Sure, go ahead and laugh. Foreshadowing, they call it.
Lee and I (aka: Buttercup) January 1957, shortly before I turned one. As you can see, my mom was the original Mrs. Maisel. Mom looked pretty much the same until about 10 years ago when the dementia began to take hold. She was always beautifully put together.
Well, I could go on and on… But, I won't. Mom is having a green burial on Tuesday. There is no funeral.
Here's Mom, age 95 in March 2018 with her "Buttercup." It was our last photo and the last time I saw her. Yes, I feel awful about it, but it broke my heart to see her like that; not old, but cognitively, functioning at about a two-year-old level and more. I can't talk about it here. Some of you know the deal.
I read an interesting piece earlier today by a man who wants to live to be 75 and be done with it. He makes some very compelling points.
Lee was a brilliant woman before her illness; a published book author– twice. Real books. You can see them on Amazon in the link! And, she was on email at least five years before I was!
Okay, we need to get back to the subject at hand which are the elegant and clever ways to hide the TV.
This is a reworking of a very old post that isn't being read very much. This one has a better headline, I think. The old one was "decorating around the TV." But, maybe that's too ambiguous? This post includes some of those ideas and many new ones. In addition, there are some truly clever and hidden solutions. And, also, some hiding in plain sight ideas.
What do I mean by "hiding in plain sight?"
Well, the idea is to make the TV blend into the surroundings. So, let's begin with that idea.
It wasn't that long ago that decorating around the TV was not only a problem, but sometimes a really big problem. The TV was big, boxy and the only solution was to stick it in an armoire or have it sitting out on something. Remember?
The first idea is one that I'll direct you to. It's another post about the living room TV as we know it is over.
By golly, I published that post above, on August 30th 2017.
There must be something about this time of year that makes me think of hibernating and watching TV. Yeah… labor day weekend. And us northerners all know what that means.
But, please check out the post above in the link. I think that you'll enjoy it a lot, even if you read it two years ago.
There are some great ideas for hiding the TV, some funny bits and some cool technology that gives one way to hide the TV in plain sight.
I remember in the early days of my career (mid-90's), I found myself in many a home that seemed to be made entirely out of windows. And where there weren't windows, there were doors or stairs– or it was open. No walls.
One time, on an initial meeting in such a home, I suggested to the prospective client that she consider covering up the windows flanking the fireplace. After-all, there were about 30 other windows. We could then install two matching cabinets and one could house the TV.
She looked at me like I had three heads and then I never heard from her again. haha.
However, in other projects, we did on occasion cover up a window to put in a built in. Nobody missed the window, but the pay-off was huge!
We no longer need the bulky equipment or if we do, it can go in another room. Still, we're not completely satisfied because now we have the option of putting the big black thing on top of the fireplace.
Focal point?
Maybe. Maybe not.
Giannetti Home
Fabulous living room with a built in TV over the fireplace. They could definitely do a Samsung Frame TV in the niche. They could also could've done bi-fold or sliding doors. But, this is fine too.
See what the Giannettis did in their own home. It's astonishing!
Below is another TV that is hidden in plain sight.
Mark D. Sikes
I love how unobtrusive the TV is in this traditional library
Let's explore the options for hiding and/or decorating around the TV.
Here are some of my favorite ideas for hiding the TV over the fireplace
Blue Egg Brown Nest
I love these folding panels using the art prints. When closed, it looks like pretty prints over the fireplace.
Another screen with art prints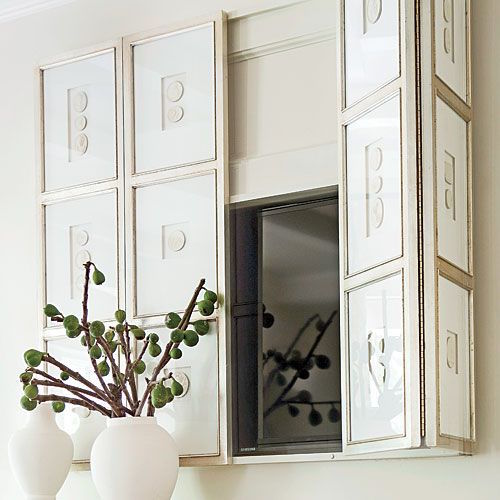 And one more with the same idea.
McKinley Residence, designer, Suzanne Kasler, Atlanta, GA – via Southern Living
I absolutely adore the work of Raymond (RL) Goins
Above and below is the fabulous work of Raymond [RL] Goins These are hand-painted scenes that he turns into a flat screen TV cover.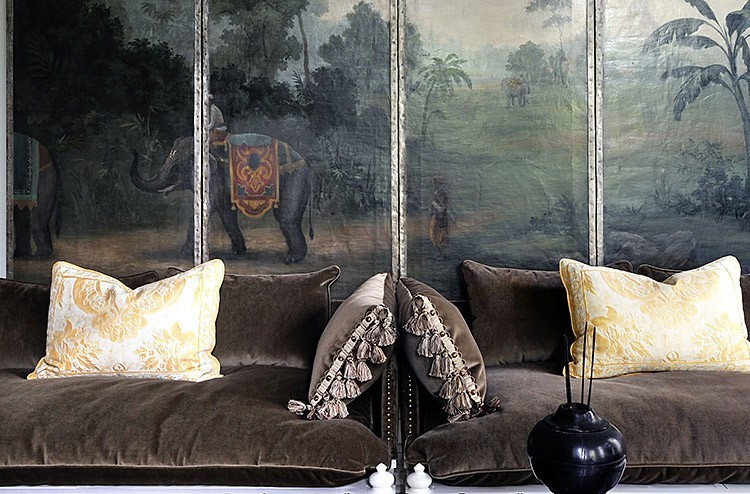 Raymond Goins Design – via Facebook – gorgeous TV screen
RL Goins Red Coromandel Chinoiserie Screen
And the last one, I am totally dying over.
(Okay, maybe dying isn't the right word, this week)
RL Goins – exquisite verre eglomise mirror
Interior @landygardnerinteriors
Can I tell you how much I adore this!!!
Let's look at some other ways to hide the TV
Amy Howard
This is a more unusual treatment but perfect for this rustic home.
Platt Builders
Traditional pocket doors in a built-in fireplace surround house a flat screen TV. One word of caution regarding pocket doors. Sometimes they break or get stuck or are just hard to work. So, what happens is that they are always in their pocket. Hence, what is the point. It is much better to use either a bi-fold or sliding door. Or if a small TV, just two doors might be fine.
Looks like a William and Mary-style highboy, right?
Nope. Not really.
Pretty cool, huh?
Phoebe Howard
An antique Swedish or French Secretary could be used to house a TV
A free-standing cabinet perfect to house a wide-screen TV. Of course, you can use any kind of cabinet you wish. And it can even be a bookcase because we no longer have to deal with the big box. That's a big help!
via Dwell.com – James Wagman – Architect – hide the TV – behind sliding panel
This is beautiful for a contemporary setting, but it could be adapted for a traditional room as you'll see in a bit.
via Dwell.com – James Wagman – Architect – Panel over fireplace – conceals TV
However, it looks kind of plain doesn't it? You could definitely do some large scale art on the flat panel.
UrbanartCN on Etsy – large scale art
Clever design by  Tom Stringer – Via Traditional Home
photo – Gordon Beall – Traditional Home – Meredith Vieira home.
I'd love to see this closed. I bet that the panels are very pretty. Lovely fireplace mantel. It looks very similar to some of these we were just looking at.
If the TV were integrated into the wall, one could just lean a light-weight piece of art over it. Or, anchor it down like we were just discussing if it's heavier art. OR, create a sliding system with the art, like we saw in the other post.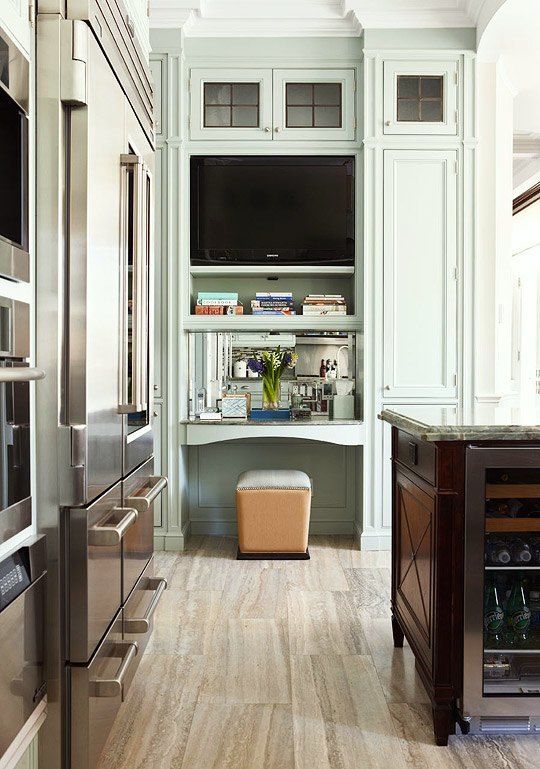 Dee Dee Taylor Eustace
This has to be one of the nicest TV installs in a kitchen I have ever seen. I don't mind it being open.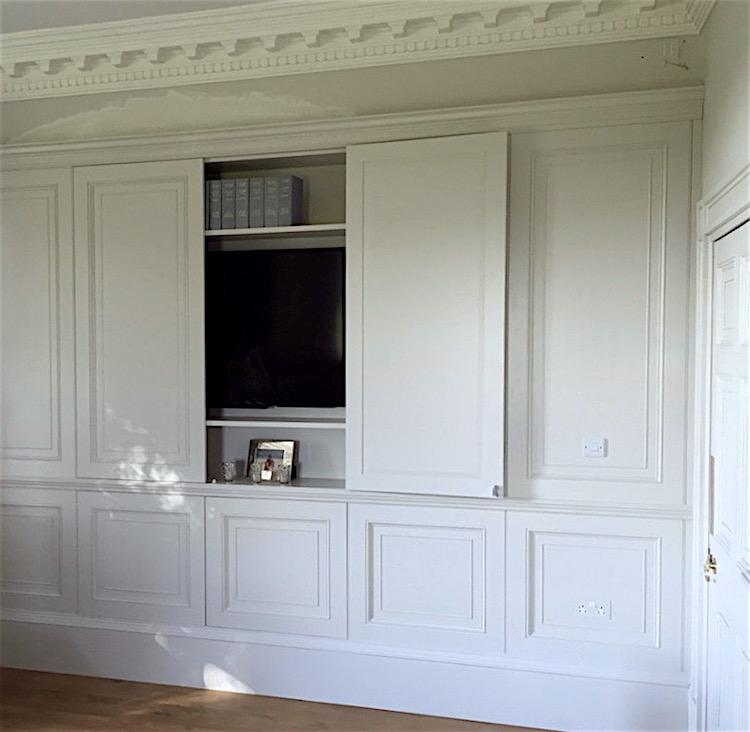 Can I tell you how much I adore this integrated panel with storage behind it?
And one more which is very cool
Veranda- Design Peter Pennoyer  photo – Christopher Mason
No TV, but there could be. Fabulous millwork!
Let's go back to hiding a TV in plain sight.
via Rainonatinroof.com – Definitely check out Jenna's post. She gives a detailed tutorial on how to do this. And there are several more photos.
One of the best ways, however, to hide a TV in plain sight is the paint the wall a dark color.
Decorating Around the TV with Art
The rest of the images will incorporate the TV into a wall of art
Little Green Notebook
Check out her tutorial on how she refinishes that Parson's console!
Coastal style. The table in the foreground is actually a ping pong table!
Matthew Kowles for Lonny
Hunted Interior
This one's kind of fun and if you can't afford art, just draw boxes on the wall!
Please also check out this post where I did a little gallery wall and incorporated it with a TV
And, there are also some tips for making the wires disappear.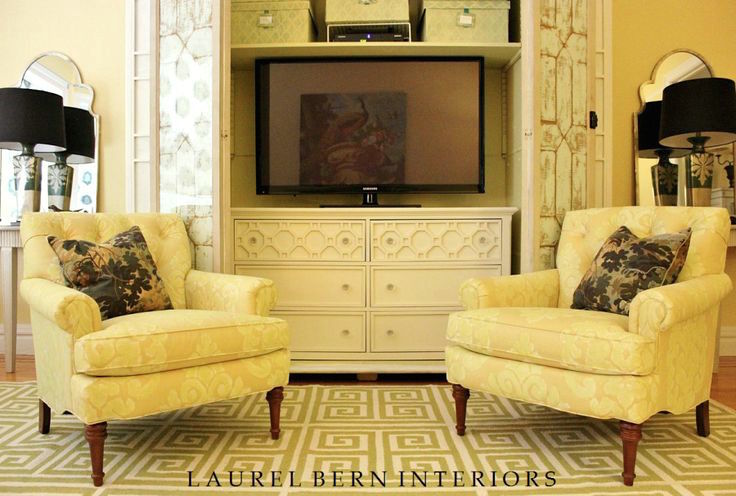 I hope that gave you some great ideas for how to hide the TV or integrate it beautifully into your decor.
What do you do with your TV? Is it out in the open or behind closed doors?
xo,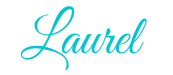 PS: A little bit of important business. It's one of the biggest sales weekends of the year.
If you want to save some money and/or get a head start on Christmas shopping, please check out the main Hot Sales page first.
There is also a new link to a page which gives the work around if your OKL promo code no longer works. Shhhhhhhh… But, about 20 of you contacted me about that so, that is why I broke down and added it in. You are definitely going to want to head over, because most of the site is on sale and then further reduced with your promo code.
Please don't ask me for the promo code though. It's listed on the pages and in the descriptions about 100 times. haha. Plus, once you put it in, it remembers it on the OKL website.
Save