Dear Laurel,
Is it me, or am I just imagining that the furniture cost has gone through the roof? And, are there any decent cheap sofas and chairs? I'm asking because I need to get some new furniture for my daughter's first apartment. And, I need a couple of new chairs for my home.

Sincerely,
Sharon Hauspor.
***
No, Sharon, it isn't just you, and no, you aren't imagining things. The prices of a lot of things have soared in the last year or so. And, the home furnishings industry has been hit quite hard, as have other sectors.
Like our groceries.
Therefore, I'd love to do a little series about where to get stylish, comfortable, cheap furniture, if there's enough interest.
Is it good furniture? Some of it is. I try to select pieces that have great reviews and look well-made.
Okay, I can see some of you squirming about tag and estate sales, Facebook Marketplace, Craig's List, and other super cheap sources.
That's absolutely fine, but it doesn't work for everyone. They can certainly purchase it, but can't pick it up.
So, this is for folks who
A. Need to have their furniture delivered
B. Don't feel like wading through tons of stuff and 100s of listings to find something they want.
C. And, people who don't want used furniture. And, it behooves one to check thoroughly for pest infestations before bringing back to your dwelling anything you acquired from someone's home, particularly upholstery.
So, where do I recommend you get this cheap furniture that usually comes quickly and can get delivered inside your home?
Well, there are lots of places.
However, I'm a strong proponent of shopping locally. Therefore, I'm recommending one of my quaint local shops.
Wayfair's new corporate headquarters on Boylston Street in the heart of the commercial area of Boston's Back Bay. And, LITERALLY around the corner from my home.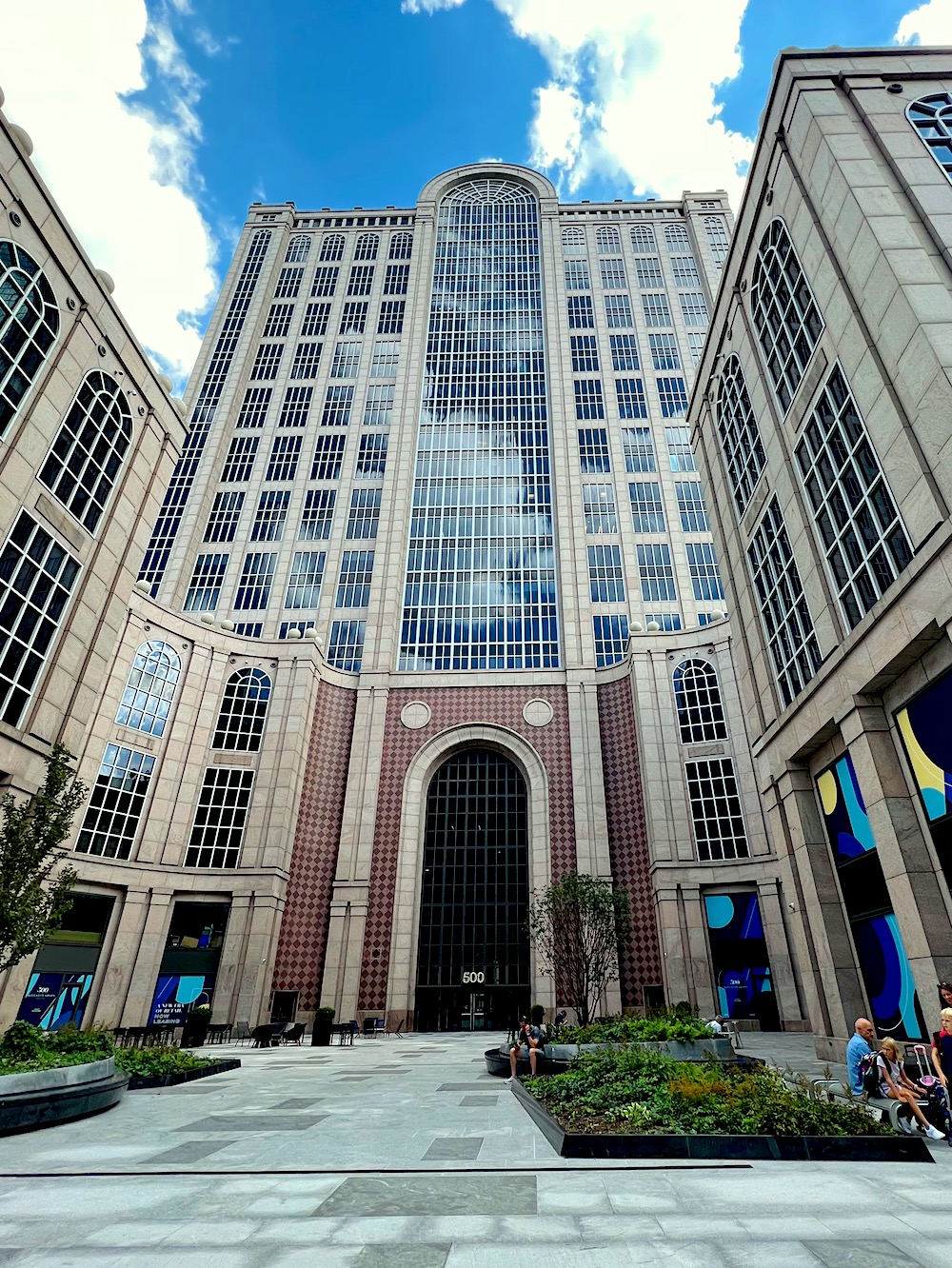 This is the main building which they're going to be renting part of it out.

Please notice how they've played down the PURPLE.

Yeah, just my little local Ma and Pa general store. And, do you know what's across the street from Wayfair? You're not going to believe this.
Nordstrom Rack.
Indeed, I live in an urban paradise. We'll ignore the usually atrocious weather, which is either snot freezing cold, or one degree cooler than Death Valley, with the humidity rivaling the Amazon.
Otherwise, it's the best place to live.
Here, let me show you a little map I made of the 'hood and surrounding territory.
Sorry, some of it is a little difficult to read, so I'll quickly go over the points of interest.
Here, you can see not only one but two Wayfair offices. One is only a baseball pitch away, and the other is about a 6-minute walk away.
At the bottom of the image is the Bahston Public Library, The finish line of the Bahston Marathon. Copley Square that they named after the Benjamin Moore paint color, Copley Gray, I guess.

Then, Trinity Church. It is difficult to tell, but the John Hancock building is in front of the Wayfair building. Actually, they are across the street (Clarendon) from each other.
To the left is my home. Beyond that is the Public Gahden. "The Hill." (Beacon Hill) I realize that it doesn't look like much of a hill here. Believe me, when I tell you that when you're climbing it, it is definitely a hill.
At the top of the Hill are the Massachusetts State Government buildings, as Bahston is the capitol of this state.
Then moving over to the far right, I forgot to put Logan International Airport in between Bahston Habah and the Atlantic Ocean. To the far, far right is the Massachusetts Turnpike. (the pike)
As you can see looking at the top of the map, the ocean isn't really all that large, for just beyond that is where the earth ends.
And, that is my paradise.
Above is another map I made a while back. But, here, you can see the Wayfair building, underneath where it says Back Bay Garage. My little garden, for you crazy stalkers out there, is right above the "r" in Jonquils Cafe and Bakery. No worries. The alley rats are surprisingly friendly.
Okay, I hope you enjoyed that little introduction, along with another perspective of our lovely town.
By the way, yes. I did brave the scorching heat to take those pics this afternoon.
Okay, that's all. I need a nap.
No, not really.
I do have some very cool cheap sofas and chairs to show you.
However, before I go on, I have two important announcements
One, please check out the new bundles for my interior design guides. If you purchase any bundle, you get 10% or more off!
The link above will take you to the introduction page, but this page is where you order and has all of the new and old bundles.

TWO: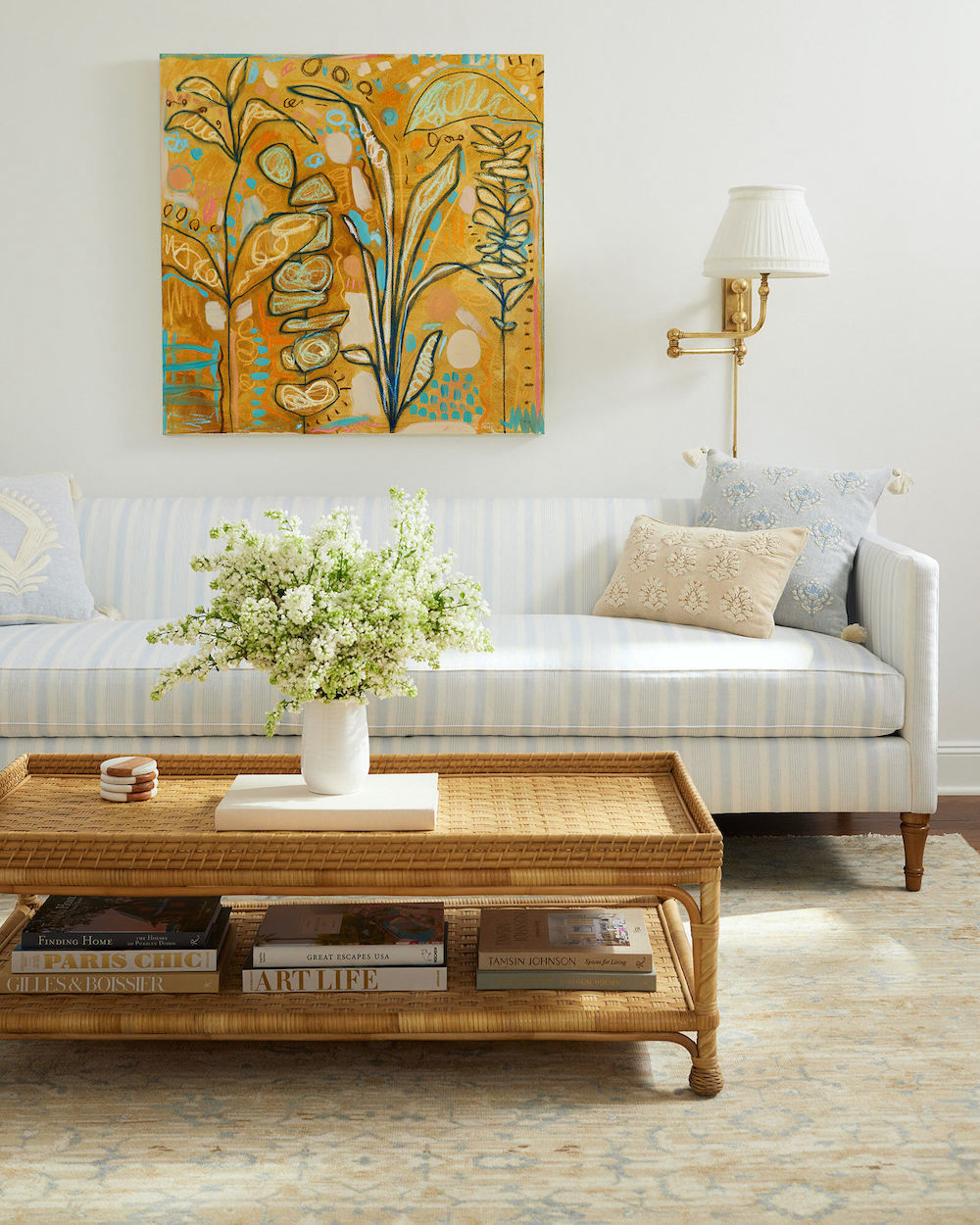 If you have the budget for some gorgeous high-end upholstery, I very much recommend you check out the Serena & Lily custom upholstery sale. Many items are in a six-week guaranteed quick ship program. Therefore, you can be certain to have your furniture before the holiday season begins. That date is about September 22nd. Right? ;]
Okay, time to focus on the main topic, which is cheap sofas and chairs. And, again, I am focusing on pieces that don't look cheap.
Okay, let's dive into our topic of cheap sofas and chairs.
What do I mean by cheap?
Well, from about $800.00-$2,100.00 for a sofa and about $300.00-$800.00 for a chair. However, some chairs here are less than $150/each. And, some sofas are well under $800.
I ordered a very cool mid-century modern sofa for my son Aaron for only $450, from Overstock.
It's in the widget below. As a matter of fact, he received it today. Wayfair and Overstock are incredible about emailing that kind of information. I texted him and said that his sofa and desk had arrived. He said he got them, thanks.
That means he loves it!
Believe me, if he didn't love it, I would hear about it.
But, Laurel– Aren't these cheap sofas and chairs going to be uhhh– your favorite word, "ersatz," or poorly made, uncomfortable, and fall apart?
Those are all great questions. And yes, there is a LOT of ersatz, ugly, amorphous, cheap furniture out there.
And, hang on, because I've rounded up a good ol' mess of horror shows for you.
But, there is also a good amount of cheap furniture that's surprisingly not only good-looking but great looking. And according to reviews, comfortable and well-made.
But sure, there are also cheap sofas and chairs which are not comfortable and will fall apart.
However, I've had clients who, when their kids were little, didn't want to spend megabucks on a piece that would get peanut butter and jelly and ice cream sandwiches smashed into it. And worse. But, they also wanted something stylish enough to look good for the time being.
Now, it is doubtful that you will get a spring-down luxurious seat. And it's true. The cushions might not hold up so well over time. Plus, very often, on a cheap sofa or chair, the cushions don't flip. However, they usually say if the cushions are reversible.
It's very important to read the reviews if there are any and any other literature available on your piece before purchasing. If in doubt, you can also call customer service where the piece is sold.
Here are some more things to look out for.
Like all upholstered furniture, we want its style to have good proportions. So, for instance, a mid-century modern piece might have a super low back, and that's appropriate for that piece.
Some cheap upholstery is boxy when it is not supposed to be boxy. So, be sure to look at your piece from all angles. The pieces I've selected, for the most part, have profiles that look high-end.
If I were concerned about buttons falling off, I wouldn't get tufted furniture. You might be able to crazy glue any buttons back on or ask an upholsterer if it can be fixed.
However, if it's a piece that should have a pitched back, then make sure it's not too straight up. Some pieces like Tuxedo sofas do have a straight outside, but the inside upholstery is pitched slightly.
Do you know the biggest aesthetic problem I often see with cheap sofas and chairs?
It's the legs.
The front legs, be they turned, tapered, or straight, look best when they are very close to the edge of the piece unless it's a mid-century style and the legs are meant to be set in.
Ideally, unless it's a style meant to be otherwise, the back legs are curved and not the same leg as in the front. However, with cheap sofas and chairs, you will almost always have to screw the legs in after you've received them.
Below, I made a graphic to show some leg issues that frequently occur with cheap sofas and chairs. But, thankfully, not all of them, as you will soon see.
More spark plug legs and in the back too. I don't know who created this turned leg design, maybe a former auto mechanic? But, they are horrible. And too bad because they are ruining an otherwise lovely chair.
And, below is another widget of chairs with strange arms, legs, ugly backs, and one that looks like it's made of cement.
Most of these are cheap and look cheap.
I think they look poorly designed and therefore look cheap. There's no need for any of that.
However, the following chairs are all expensive. I mean, super expensive and IMO, even more offensive.
The widget below is entitled: I DON'T UNDERSTAND WHY ANYONE WOULD EVEN THINK OF DOING THIS.
Oh, one more. Pretty Please?
What is with that small chair with the 50s hair-do flip arms? Bizarre, to say the least.
Okay, what do we need to look for when trying to find some great-looking cheap sofas and chairs?
Design. Is it classic? And by classic, it could be modern, mid-century, or traditional. But, the proportions are good, and the lines pretty.
How are the proportions? You can see when something is horribly misshapen. Great cheap sofas and chairs are beautifully proportioned.
Also, look, as mentioned earlier (except for a Tuxedo or Chesterfield), for a decent pitch. You don't want to be sitting ramrod straight. And, you also don't want to be leaning back against an amorphous amoeba blown up one trillion times its normal size.
What are the best sources for cheap sofas and chairs?
Some of my favorites are:
Joss and Main – They have a great selection of cheap sofas!
West Elm for more contemporary/modern pieces
Below are a few of my favorite cheap sofas and chairs. You will see them again in the widget below.

This Tuxedo-style sofa looks so much more expensive than it is. There are lots of images on Wayfair too.
This classic is in the widget a couple of times. (See below)
I believe in this situation, with a straight back, it is fine to have all four legs be straight and tapered.
The elegant roll-arm sofa from Wayfair
Below is a widget of 36 beautiful budget sofas and chairs
(please click on any image for more information)
And below is a graphic to pin to Pinterest for reference.
I hope you enjoyed these cheap sofas and chairs, and are proud of me for supporting the neighborhood furniture store. haha
You might also enjoy this post about a handsome room using some beautiful furniture.
Please be sure to visit the HOT SALES for more budget furnishings.
xo,
I think it's time for a new laptop. This one just had two keys fall off while typing!